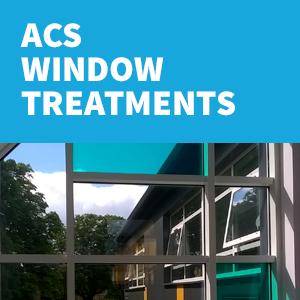 Supplying Your Commercial Blinds
The image and practicality that your windows portray can speak wonders in the business world, which is why it is imperative to have commercial blinds that reflect your professional image.
We are proud to boast a service of over 20 years in supplying and installing a whole range of commercial blinds from ACS Window Treatments, as well as a multitude of window film and window treatment services. Our reputation has grown to see us evolve into the only choice for many of our customers.
Many employees, clients and visitors will instantaneously make a judgment of your office premises simply by their first impression. So make sure you make the right first impression with commercial blinds that provide a number of solutions.
Image
One of the most important factors to consider in business, our stylish, modern and unique blinds will neatly and seamlessly enhance the look and feel of your office. Whether you're hoping to achieve a natural and rustic look with our wood slat and woven wood blinds, or going for a more contemporary and modern approach thanks to our pleated and venetian blinds, you will be able to find the style that is right for your business.
Shading
Protect occupants from unnecessary lighting and glare thanks to our different methods of shading. Whether you're looking for blackout blinds or pleated blinds, we give you the ability to control your environment.
Security
Ensure that your office supplies and equipment are not on show to any unwanted visitors thanks to our effective and stylish commercial blinds. Fitted to measure, our range of roller blinds can be customized to fit your exact window measurements.
With a whole host of experience and expertise at your disposal, our team of experts are on hand to offer their professional advice and answer any queries you may have. Serving Milton Keynes and the surrounding areas, be sure to call us today our head office today on 01327 855 550.