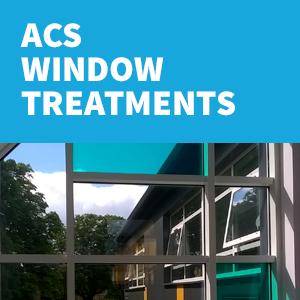 How Can I Improve Energy Efficiency All Year Round?
It's important to find the most cost-effective ways to run your business. This is much simpler than first thought and here at ACS Window Treatments, we can help you transform your commercial premises.
We believe in providing a complete and all-round service for our customers, answering any enquires they may have, whatever their needs. We recently quoted for work on installing Hanita Low-E Window Film in a large, older building.
Hanita Low-E Window Film
The main problem faced was that the building was single glazed, meaning that during the different seasons, it was hard to maintain energy costs. The hot summer months meant that the building would become absorb a lot of the heat and in winter, it was near impossible to retain it.
The solution? Low-E Window Film. A high reflective window film, Low-E window film can help reduce heat loss by up to 30% as well as reflecting heat in the summer months, keeping your premises cool. The beauty of this outstanding product means that money is not wasted energy on needlessly heating or cooling the premises.
Bespoke Service
What's more, we predict that within 3 years our customer will have made their money back which only emphasises the benefits that saving energy can bring to your any business. The fact that we provide such a bespoke service to our customers, means that we really can take a personable approach to their needs, whatever they may be.
For more information on our range of window treatments and films as well as the benefits they hold, be sure to get in touch with our experts today by calling your nearest branch, or contact us online.