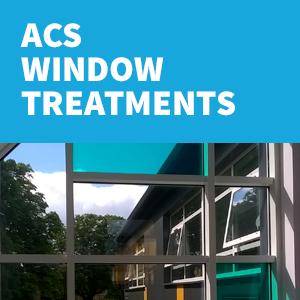 A New Year, A New Look For Your Windows?
Windows are often something that many of us tend not to notice. Whether in the workplace or at home, many people overlook the effect that a new set of window blinds or the installation of window film can have on a room.
With the help of ACS Window Treatments, we can help you realise your windows' true potential with the help of our extensive range of conservatory blinds, window blinds and commercial window film to give your windows the look they deserve.
Tailored Window Treatments
One of our key and outstanding products is the implementation of our window film. With the ability to add corporate class and enhance the privacy of your workplace, window film is a great alternative to installing tinted windows. Your commercial residence will endure the exclusive and established image which your business portrays.
For a more adaptable and controllable effect, why not install our commercial window blinds? Smart, effective and stylish our window blinds come in an array of sizes that will ensure your windows are as attractive and practical as can be.
Supply & Install
Your windows really are yours to make your own, which is why we tailor our services to your specific needs. Our experienced and trained experts and fitters are on hand to answer any questions and queries you may have. Serving the Northampton, Milton Keynes and Oxford areas, we are dedicated to ensuring that businesses and residencies can have their window treatment problems solved uniquely and effectively.
If you're looking for a specific effect, a tailored service or simply looking for advice on our exemplary products and how to apply them, be sure to check out our website and find your nearest supplier.