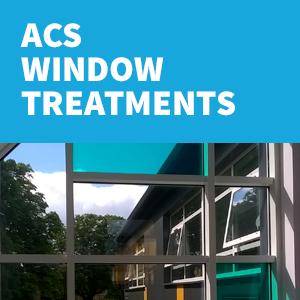 Treat Your Windows This New Year
With over 20 years' experience, here at ACS Window Treatments, we are specialists in providing window treatment and service to the domestic and commercial sectors. Whether you are looking for window film insulation, conservatory blinds or commercial blinds in Northampton, Milton Keynes and Oxford, ACS is the only name you need to remember.
We pride ourselves on offering an all-round and comprehensive service, providing you with quality products and installations as well as delivering excellent customer service. Whatever your window needs or requirements, we will be able to find a tailored and suitable solution.
Window Film
Bring elegance and prestige to your workplace by installing window film to your office windows. Our extensive range of products will allow you to find the style that best fits your work place. Our experienced fitters will be able to advise and direct you every step of the way.
Our great range in commercial windows and commercial blinds means that we, here at ACS have the experience and skills to ensure that your windows are treated effectively and practically.
Window Treatments
Looking for a non-permanent solution to decorate your workplace? Installing manifestations across your windows will provide flexible and low cost alternative to etching or sandblasting straight onto your windows. Whether you want to display your corporate logo or bring colour to a room, a manifestation is the best way to do so.
Some of our other products and services include privacy window film, curtains and tracks as well as security films, ensuring that whatever treatment your windows need, ACS will be able to fulfil your needs. For a more extensive look at our services, be sure to check out our website.