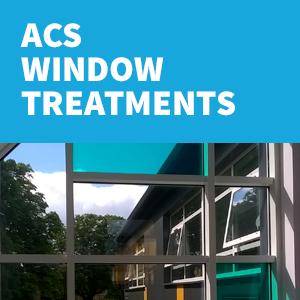 Tinted & Coloured Solar Film Bedford
As we enter the warmer months, many of us may be dreading the hot and sweaty working days ahead, sweltering in offices with large windows and no protection from the summer sun. At ACS Window Treatments we can help, as we can supply some fantastically effective solar film Bedford that can provide your workplace with a multitude of advantages.
Keep Your Workplace Cool
Working in an office that experiences lengthy sun exposure can significantly raise the temperatures, leading to an extremely uncomfortable environment to work in. Although blinds can help, nothing reduces the heat incurred by the sun's rays quite like the tinted and coloured solar film we can provide.
If your staff are uncomfortable it is inevitably going to negatively affect morale, and studies have shown that unhappy employees do not work to their maximum efficiency. With this in mind it is in your interest to ensure your offices are as hospitable as possible.
Reduce Glare
Hot offices may not be a problem in the Winter but one thing that can be is glare. It may be cold but the sun will still be shining, and when light falls onto computer screens it can make it very difficult to see what you're looking at. Our tinted solar film reduces glare almost entirely to make sure that your employees can get on with things without straining their eyes!
Saving you Money
Believe it or not, by investing in tinted solar film for your property you can end up saving money for your business. By limiting the amount of light that can enter your building thus reducing temperature you can save significant money on air conditioning Milton Keynes bills.
Our tinted solar film can be used for more than just commercial applications, and is also ideal for use in conservatory windows as well. To find out more about our solar film, as well as all of the other products we can supply here at ACS Window Treatments, get in touch with us by phone, alternatively you can send us your contact details and we'll get back to you within 24 hours.
---
Disclaimer of Endorsement: Reference herein to any specific commercial products, process, or service by trade name, trademark, manufacturer, or otherwise, does not necessarily constitute or imply its endorsement, recommendation, or favouring by ACS Window Treatments. The views and opinions of authors expressed herein do not necessarily state or reflect those of ACS Window Treatments, and shall not be used for advertising or product endorsement purposes.