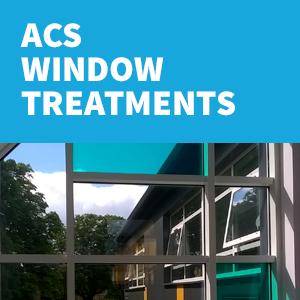 A Reputable Window Film Company in Northampton
Investing in window film is a highly effective way of improving the appearance of the windows within your office building or even at home in your conservatory. There are numerous styles from privacy films through to reflective designs and here at ACS Window Treatments, you can rely on us to provide you with the ideal window film Northampton to suit its required purpose.
Privacy films are highly effective in restricting the view from windows into rooms such as offices in banks, along with rooms that may contain a number of hi tech, expensive electrical equipment. Available in frosted and translucent designs, this style of film can provide the ideal alternative to having to invest in a brand new window installation by providing you with an improved, cost effective solution.
At ACS Window Treatments, we will always offer impartial advice as to which style will best suit your needs. For the exterior windows of a number of office units, reflective film is a popular choice. This creates a stylish and sophisticated look that at the same time will provide a safe and comfortable office environment by incorporating UV control properties to protect from sunlight.
For the home, solar control films are useful within conservatories as they significantly reduce the heat and glare from the sun entering the room. This style takes on innovative design aspects to allow a comfortable level of heat to enter, so that you can sit comfortably within your conservatory.
As a reputable window film supplier, here at ACS Window Treatments we have a wide variety of window film Northampton that can be used to improve appearance, comfort and security. To request a quote or if you require any further information, feel free to give our friendly and knowledgeable team a call or fill in our online contact form.