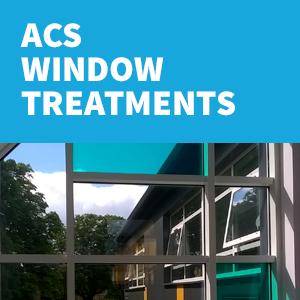 High Quality Window Film Northampton
The implementation of window film within both a commercial and domestic environment can have a wide range of positive implications upon the environment. Specialist window films are an excellent alternative to having different types of glass fitted, or blinds installed, as they enable you to achieve the desired results, without the need for a costly purchase. Here at ACS Window Treatments, we make it possible for everyone to experience the great advantages which high quality window film Northampton offers, along with the fantastic effects it can have on your surroundings.
All of the film which we provide is manufactured to the highest standard, for the best possible results – but how exactly can window film improve your building environment?
Privacy
Large open windows are often used in many commercial buildings, but they significantly reduce the amount of privacy within the interior. Even rooms which are sectioned off may not feel private if they have been made from glass which can be seen straight through.
Window films are brilliant in such situations, as they are able to quickly and easily add an enhanced level of privacy. We can provide both frosted and translucent films, to restrict the view into the room, which can be highly useful in an environment such as a bank, where such privacy is required.
Security
Not only will window films add an essential level of privacy, but they will also provide valuable security implications. Many businesses which keep expensive technology and equipment within their premises can easily attract the attention of thieves, should their contents be visible. A window film can effectively obscure this view, leaving opportunist criminals unaware of the nature of your building's contents.
The films which we offer still allow a large amount of light to enter into the building, whilst retaining their important purpose of implementing privacy.
In addition to the useful privacy window films which we offer, we also have reflective film which adds a professional look to your property, solar control films which are able to reduce the amount of heat from the sun which enters into the room, and safety film which will strengthen your windows, holding it together should it shatter. For more information on any of our window film Northampton, get in touch with our team today.